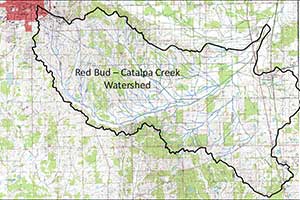 Catalpa Creek Restoration and Protection Project
Nearly 29,000 acres of Oktibbeha and Lowndes Counties in northeast Mississippi are in the Catalpa Creek Watershed. Rainfall in the watershed flows into 31 miles of streams and creeks on its way to Columbus Lake and the Tennessee-Tombigbee Waterway. The watershed includes part of the city of Starkville and portions of the Mississippi State University campus and farm facilities, as well as privately owned lands. Current land cover includes hay and pasture land, cultivated crops, developed properties, and wetlands or open water. University research activities and development in the city and on campus are contributing to stream, ecosystem, and water quality degradation in the watershed. The Mississippi Department of Environmental Quality currently lists Catalpa Creek as impaired and in need of restoration. Agricultural resource concerns identified for the watershed include sedimentation, grazing, sustainable forestry, and declining wildlife habitat. Urban storm water management is also a key need. Download the water resources management plan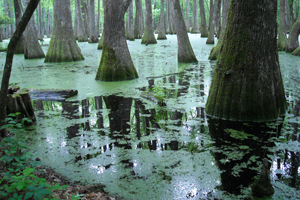 Water Quality and Floristic Habitat Assessments in the Coldwater and Sunflower River Basins: Comparin Traditional Measures of Water and Habitat Quality to Index of Biotic Integrity Findings
The Coldwater and Sunflower Rivers in Northwest Mississippi are listed on the EPA Section § 303(d) list of Impaired Waterbodies for Mississippi. Different river segments and tributaries in the basin are listed as impaired by biological impairment, nutrients, low dissolved oxygen, organic enrichment, pesticides, pathogens, and sediments. Total maximum daily loads have been developed for impaired reaches in the Coldwater and Sunflower River Basins, and water quality improvements are being implemented. Stream quality reference conditions are also being established based on industrial and engineering inspection scores rather than the narrative standards used in the past. This project will refine the development of water quality standards in the Lower Mississippi Alluvial Valley using a combination of additional measures of system status. Scientists will evaluate the incorporation of traditional measures of water quality and stream/river habitat quality measurements, such as floristic quality assessments or riparian areas, with the fish-based data that has already been collected to improve the establishment of appropriate water quality standards. It is expected that this research will enhance management of Lower Mississippi Alluvial Valley surface waters for human use, wildlife value, and water quality, as well as facilitate the administrative determination of water quality standards. Yazoo Mississippi Delta Joint Water Management District personnel are assisting with water quality sampling. This sampling includes the collection of dissolved oxygen and temperature data from streams in the Mississippi Delta Region. Vegetation monitoring has been completed and the data is being analyzed. Analysis of all collections will be incorporated in a final report that can be useful for water district managers in planning and implementing programs to preserve and enhance water quality.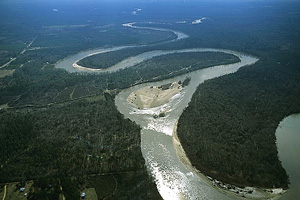 Upper Pearl River - Watershed Advisory Group
The Upper Pearl River - Watershed Advisory Group's (UPR-WAG) focus area includes a watershed that drains areas of land in twelve Mississippi counties: Attala, Choctaw, Hinds, Kemper, Leake, Madison, Neshoba, Newton, Rankin, Scott, Smith, and Winston. This area includes the entire Upper Pearl River/Yockanookany Watershed and a portion of the Middle Pearl/Strong Watershed (Hydrologic Unit Codes - 0318001 and 0318002, respectively). The UPR-WAG's activities aim to improve overall watershed health within its geographic focus area by helping protect surface water, ground water, and drinking water. The UPR-WAG supports: Broad stakeholder involvement, Recreational, environmental, and economic development activities, Sustainable and improved habitat, fish and wildlife diversity, and watershed resources, and Development, operation and maintenance of recreational facilities and activities consistent with good watershed management practices.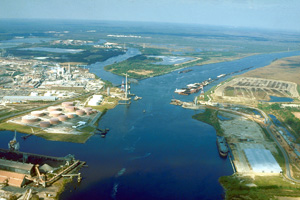 Spatial Technology and High-Performance Computing for Improved Prediction of Surface Water Quality
This multidisciplinary project is funded through the National Oceanic and Atmospheric Administration's Northern Gulf Institute and focuses on using spatial technologies and high performance computing to improve water quality predictions of surface water runoff models. The project study area is the Tennessee-Tombigbee-Mobile River Basin. Institute personnel have assisted with stakeholder interaction and outreach in these areas and provided geospatial data support for the modeling effort. The Institute has worked with MSU's Department of Civil and Environmental Engineering to provide project updates to interested local and regional stakeholders. We have also obtained feedback from decision makers in the study area on how model results can be made more useful to them in making management decisions.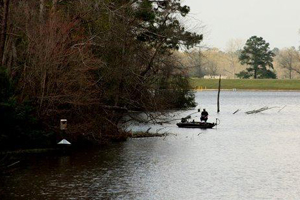 Smith County Lake Study
Working closely with the U.S. Forest Service and the Bienville Resources and Development Council (an interlocal agreement between Smith, Jasper, Rankin, and Simpson counties), this project is identifying and evaluating sites in Smith County that could be developed into a multi-purpose lake. As part of a master planning effort, the project is also evaluating facilities and amenities that could be directly or indirectly associated with the lake to make it a regional economic development hub for all counties participating in the council. Amenities that were evaluated included water-related structures such as docks and piers, marinas, and boat ramps; land-based facilities such as cabins, camping areas, and structures for recreational activities; residential areas; a conference center; a lodge(s); and complementary commercial establishments. Using a 2007 PricewaterhouseCoopers report, economic and fiscal impacts from residential activities at the lake were estimated to establish patterns of residential development expected near the proposed Smith County/Bienville National Forest Lake. Data from Lake Eddins was collected from the Jasper County Tax Assessor to estimate the distribution of home values and associated household incomes of residents that would populate the proposed site. PricewaterhouseCoopers estimates were combined with Lake Eddins property tax data to determine economic impacts attributed by new residents. These economic impacts were used to gauge the value of sales tax revenues generated by the project. Another component of the residential analysis involved calculating the property tax implications. In addition to presumed residential activities, estimates from recreational activities planned at the lake and associated facilities were also necessary. Again, the PricewaterhouseCoopers report was used to estimate the number of visitors to the site. Also surveyed were several recreational lakes in Mississippi to estimate typical spending patterns by recreational visitors. The combined visitor numbers and expenditure patterns were used to arrive at estimates of economic impacts of visitors on the region. Economic impacts were then used to extrapolate an estimate of the additional sales tax revenue expected from the project. From all studies, the scientists found that the proposed lake and associated residential and recreational activities, including business and infrastructure development will generate $183 million (2006 dollars) in future sales. A major source of the revenue would be generated from new residents and construction of the required infrastructure. These two activities would provide a very significant economic stimulus to the region. Part-time residents and recreational visitors will have a minor impact on the region. Approximately 209 full- and part-time jobs will be created by the lake's economic stimulus with the majority coming from spending by new residents. Jobs created by the construction of the lake and related infrastructure are considered temporary; however, the average of 58 full-and part-time jobs was skewed with approximately 385 full- and part-time jobs being created in year 1 of the project and about 30 full- and part-time jobs being supported by construction during year 20, the last year of the project.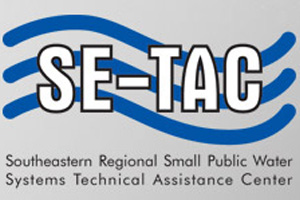 SE-TAC
The Mississippi Water Resources Research Institute continues to recognize the need for assisting small public water systems in Mississippi and the southeastern United States to provide safe, clean drinking water to the public. The Southeastern Regional Small Public Water Systems Technical Assistance Center (SE-TAC), funded by the Environmental Protection Agency, was established in 2000 and has been administered by the MWRRI at Mississippi State University. SE-TAC works with state and regional agencies to assist small public water systems in acquiring and maintaining the technical, financial, and managerial capacity to provide safe drinking water and meet the Safe Drinking Water Act's public health protection goals. SE-TAC has adopted an applied approach to directly and meaningfully supporting small public water system issues in the southeastern United States. Throughout its existence, SE-TAC has provided nearly $2 million on over 40 projects that have directly assisted small drinking water systems across the southeast region of the United States. Hundreds of small water systems have received training and assistance with technical, financial and managerial issues through SE-TAC funded projects.

Northeast Madison County Economic Development Project
In search of ideas to spur economic development in northern Madison County, the Madison County Economic Development Authority (MCEDA), led by Executive Director Tim Coursey and Board Chairman Barbara Gray, sponsored a bus tour of the Tellico Reservoir area for community leaders from northern Madison County. The tour of the Tellico Reservoir, which is located in a largely rural area south of Knoxville, TN, took place on November 15 and 16th. The thirty member Madison County delegation included elected officials, government representatives, farmers, educators, as well as many other civic and community leaders from the northern portion of the county. The group, which also included State Senator Joseph Thomas and State Representative Ferr Smith, dedicated the two days to exploring potential economic development ideas for northern Madison County.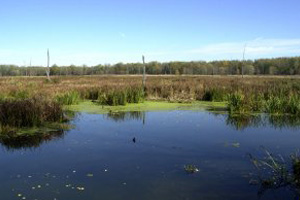 Natural Enhanced Transport of Agricultural Lead and Arsenic through Riparian Wetlands
Riparian wetlands are widely regarded as efficient scavengers of a broad range of contaminants. Confidence in the ability of riparian zones to buffer anthropogenic inputs has derived primarily from studies of active inflow and outflow of chemical-laden water and sediment entering and exiting riparian systems. While such studies document short-term scavenging of specific chemicals, they tell little about the permanence of sequestration. In Sky Lake, an oxbow lake-wetland in the Delta region of Mississippi, sediment cores representing 100 years of accumulation contain evidence that inorganic pesticides applied in the past were not permanently sequestered in the wetland surrounding the lake. Lead and arsenic are clearly present in open water sediments deposited approximately 75 years ago and are absent in the wetland sediments. The age of these sediments and elevated concentrations match historical records of lead and arsenate used for boll weevil control in surrounding cotton crops. The geomorphology, sediment distribution, and hydrology suggest that these contaminants could not have reached the lake without depositing a significant mass of contaminated sediment within the wetland. Secondary processes appear to have remobilized and flushed lead and arsenic from the wetland into the open water environment where deposition and burial resulted in permanent sequestration. Hampton Lake, an oxbow lake in the Delta, was selected based on satellite imagery and ground reconnaissance for sediment sampling. Several 3-m cores were collected. When no lead or arsenic spikes were observed, it was determined that deeper samples were needed. Five-m cores were collected, sectioned, and dried in preparation for digestion and analysis. Arsenic (As), cobalt (Co), copper (Cu), and nickel (Ni) were all found at the same depth though lead was not elevated within the same zone. Another set of samples below this zone are being reprocessed for analysis to replace those that were contaminated during sample preparation.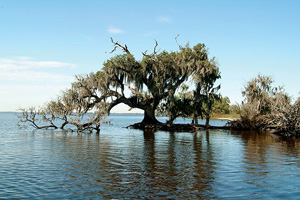 Multi-scale Evaluation and Analysis of Precipitation Patterns Over the Mississippi Delta
The Mississippi River floodplain in northwestern Mississippi, often referred to as the Mississippi Delta, is extremely important for regional economic stability and growth due to the widespread agriculture in the area. In terms of water resource management and climatological precipitation research, quantitatively defining the biases associated with available precipitation data is critical in choosing which water source to use for a given application. These precipitation patterns should be reevaluated in terms of duration, frequency, and extent. Including long-term data from surface gauges along with shorter-term but higher resolution radar-derived rainfall estimates allow for a detailed analysis of past and current precipitation trends. This knowledge will lead to a better understanding of rainfall trends and patterns and potentially better prediction of future rainfall. The results of conducted research can be directly used by water resource managers as well as local and regional agricultural consultants and departments to identify local areas that are more or less sensitive to rainfall during the summer growing season. Agricultural producers in the region as well as planners in the Yazoo Mississippi Water Management District and the Mississippi Department of Environmental Quality will benefit from the model for forecasting. Additional results offer winter patterns that can be identified to quantify recharge rates of groundwater systems.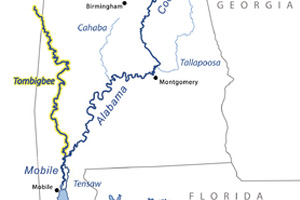 Linking Coastal Watersheds
A Pilot Project to Link Inland and Coastal Management in the Tenn-Tom to Mobile Bay Basin The overall goal is to facilitate more effective engagements between key inland and coastal management institutions in the Tennessee-Tombigbee - Mobile Bay Basin and to identify and integrate priority geospatial information. By creating a basis for sustained collaboration on data and decision making for the Tennessee-Tombigbee - Mobile Bay Basin, upstream and coastal communities would have a mutual benefit, Mobile Bay's estuarine research and protection needs would be highlighted, and the Tenn-Tom Waterway's purpose and role in regional economic development would be recognized. These effective engagements would serve as a model to apply in other inland-coastal basins in the northern Gulf coast and the Southeastern Atlantic regions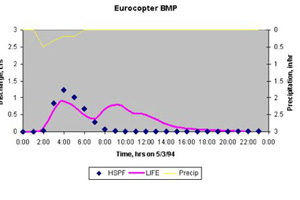 LATIS
Increasingly, many federal and state agencies, county economic development authorities, developers, engineers and others in the Southeastern United States have expressed a strong interest in having an easy to use tool to assess the water quality and quantity impacts of proposed developments. In the Summer of 2004 the Environmental Protection Agency (Region IV), the Tennessee Valley Authority and the Mississippi Department of Environmental Quality funded a multi-disciplinary team at Mississippi State University to undertake a proof of concept project to develop such a tool. The tool was then applied to the American Eurocopter industrial site under development in Lowndes County, Mississippi. Afterwards, the tool's results were compared to those an existing proprietary tool developed for the site. Those results were subjected to a peer review process. The peer review validated that the concept was proven on the Eurocopter site and the resulting tool was named Latis after the Celtic goddess of clean water and ale.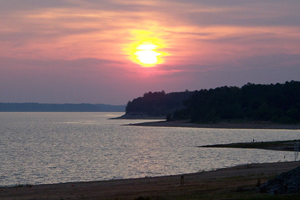 Grenada Lake Economic Development Project
The Grenada Chamber of Commerce contacted the Mississippi Water Resources Research Institute for assistance in promoting economic development around Grenada Lake, a U.S. Army Corps of Engineers lake. The operation of the lake began in 1954 to help control flooding in the Yazoo River Basin. The 90,000-acre multi-use project is managed through the Corps' Vicksburg District for flood control, public recreation, conservation of fish and wildlife, and public forests. Grenada Lake is also home to Hugh White State Park and a recently constructed 18-hole golf course. The Chamber sought help in working with the Corps to promote economic development based on the lake's numerous recreational opportunities and bountiful natural resources. The MWRRI led two public meetings to obtain feedback on amenities and opportunities Grenada's citizens would like to see around the lake. The MWRRI then teamed with Mississippi State University's Departments of Landscape Architecture and Finance and Economics to develop a preliminary master plan and conduct economic and marketing feasibility studies, respectively.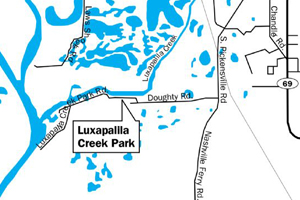 Geospatial Technologies as a Foundation to Organize a Bi-State Luxapallila Creek Watershed Alliance to Pursue Luxapallila Creek's Watershed Implementation Plan
The informal Luxapallila Creek Watershed Alliance was formed to bring local stakeholders together to refine, implement, and expand the Luxapallila Creek Watershed Implementation Plan created by the Tennessee-Tombigbee River Basin Team. The plan seeks to protect and restore water quality in the Luxapallila Creek Watershed. As part of this project, high resolution imagery was collected for most of the Luxapallila Creek Watershed and distributed to local and regional stakeholders participating in the Alliance. Geographic information systems (GIS) technologies were used to bring stakeholders together by encouraging them to share their data with other stakeholders for the purpose of addressing current water quality issues within the watershed and developing a water quality protection strategy for the future.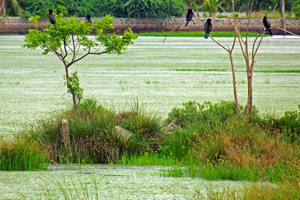 Developing a Reliable Method for Identifying Pre-Settlement Wetland Sediment Accumulation Rates: 14C Dating on Bulk Lake Sediments and Extracts
Carbon 14 is often used to date specific layers in lake sediments. However, problems in this type of dating can result in erroneous calculated ages. Four separate sedimentation regimes were identified while researching the history of Sky Lake, an oxbow lake in northwestern Mississippi. Scientists incorporated 14C activities from bulk sediment samples and collection of deeper cores from the open water region of the lake. This allowed scientists to completely map the history of sedimentation in the lake from the time it was abandoned as an active meander bend to the present. Items identified for analysis included: sand, deposition while still part of an actively flowing system, abandonment from the river system with a relative high sediment accumulation rate from seasonal flooding, migration of the river away from the lake with a subsequent drop in the rate of accumulation, and post land clearing with a 50-fold increase in the rate of sediment accumulation. Using time intervals prior to land clearing, 97 percent of the lake's history can be represented. This period lasted upwards of 3600 years during which time approximately 120 cm of sediment accumulated in the lake. In the last 100 to 120 years, since the land began to be cleared, an equivalent thickness of sediment has been added, doubling the total sediment thickness. Radioisotope data and recent observations of sediment accumulation over the past five years indicate that the 50-fold increase in sediment accumulation rate continues unabated.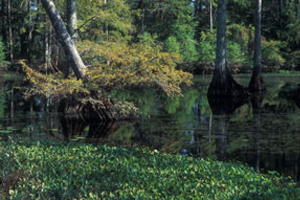 Climatological and Cultural Influences on Annual Groundwater Decline in the Mississippi Delta Shallow Alluvial Aquifer: Modeling Potential Solutions (Year Two)
MWRRI-sponsored research in the previous year resulted in a model that can simulate the effects of climatological variability, crop acreage changes, and specific irrigation methods on consequent variations in the water volume in the aquifer. The objective of this research is to continue development and refinement of the model by using 2007 climatological and water use data to validate the model results and to then use the model to test and recommend specific management strategies aimed at stabilizing the drawdown in aquifer water volume. The simulation model will be a valuable tool that can be easily used to reflect climatic variability and changes in the cultural practices in the region, and easily modified as new information becomes available. The model will enable management decisions to be made that will allow sustainable use of the groundwater resource.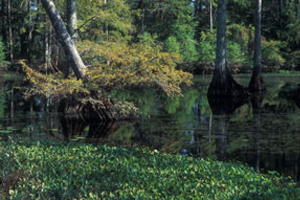 Climatological and Cultural Influences on Annual Groundwater Decline in the Mississippi Delta Shallow Alluvial Aquifer: Modeling Potential Solutions
This project seeks to determine the causes of short-term aquifer declines, cultural water uses and climatological processes, with a conscious effort to exclude the effects of river recharge or extraction. Maximizing use of rain to substitute for groundwater is definitely an alternative when water demand in dry years for agriculture becomes an even more serious issue. Water use from the delta aquifer has been quantified by crop, acreage, and irrigation method. A relationship between growing season rainfall and irrigation water use has been developed to link interannual variations in water use to variations in climate rainfall. A complete prototype water use model has been completed using acreages, irrigation methods, and management strategies in place during 2006 in Sunflower County to predict annual demand for cotton, rice, soybeans, corn, and catfish. Growing season climate data for the past 45 years were used to run the water demand model for a 45-year (2008-2053) period to assess aquifer drawdown and recharge characteristics annually and cumulatively over the long-term. Changes in acreages of the major crops, specific irrigation methods, and water management strategies were used to create various scenarios, then conduct multiple model runs to assess the effects of the instituted changes on aquifer drawdown and recharge characteristics over the long-term period.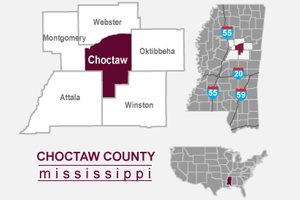 Choctaw County Multi-Purpose - Surface Water Impoundment Feasibility Study
Among the goals and objectives established early in the study was to ensure full public participation and awareness in the study and to receive public comments and concerns throughout the study. To that end, a series of public meetings to discuss the process and reveal findings have been held. The media in Choctaw County has been briefed and a series of Decision Support Laboratory sessions conducted by the Social Science Research Center conducted in August. Efforts are currently underway to conduct a more extensive county-wide survey to attempt to identify unidentified issues and concerns of the citizens throughout the county.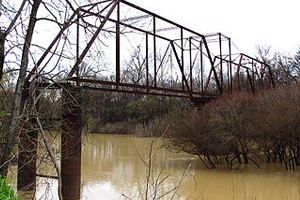 Assessing the Effectiveness of Streamflow Augmentation in the Sunflower River to Maintain Water Quality and Wetland Integrity
The Big Sunflower River is listed on Mississippi's Clean Water Act 303(d) as an impaired waterbody. Substantial decreases in the Sunflower River's late summer/early autumn base flows, as a result of agricultural withdrawals from the Mississippi River Valley Alluvial Aquifer, contribute to the river's impairment. The objective of this project is to provide a quantitative ecological evaluation of wetland and water quality impacts resulting from groundwater supplementation to a major stream in the Lower Mississippi Alluvial Stream. Scientists monitored water quality and vegetation data in a small set of target wetlands and stream reaches along a longitudinal gradient from just upstream of groundwater augmentation wells to just north of Indianola, MS. Overall findings suggest that there are modest improvements in the overall system associated with augmented stream flow. Water quality parameters generally remained in an acceptable range during periods of flow augmentation. There were also indications of improved riparian vegetation communities in reaches of the river which have received supplemental flow for years. The underlying problem of over pumping of groundwaters is not addressed by flow augmentation but does provide some value in remediating these withdrawals. This research has benefited the Yazoo-Mississippi Delta Joint Water Management District. The District is benefitting from the quantitative evaluation of the ecological effects of their water management efforts. The information is also providing guidance on how to best plan future activities. Results of this research increased the efficacy with which water district managers can plan and implement programs to augment surface water flows and storage within the Lower Mississippi Alluvial Valley.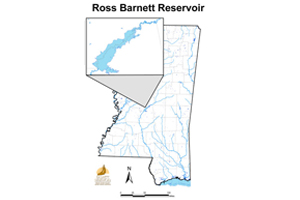 Aquatic Plant Management Support for the Pearl River Valley Water Supply District
This is an ongoing project conducted with MSU's GeoResources Institute to monitor and map the distribution of aquatic vegetation throughout the Ross Barnett Reservoir. At 33,000 acres, the reservoir is Mississippi's largest surface water impoundment and serves as the drinking water supply for Jackson, Mississippi. The Pearl River Valley Water Supply District (PRVWSD) manages the Ross Barnett Reservoir, its recreational amenities, and water and sewer services for approximately 50 surrounding subdivisions. In recent years, invasive species have become an increasing problem, clogging navigation channels, reducing recreational opportunities, and limiting access for users. The PRVWSD requested the Mississippi Water Resources Research Institute's assistance in assessing the distribution of aquatic vegetation, monitoring the spread of invasive species, and evaluating ongoing treatment efforts throughout the reservoir. During the first plant survey in 2005, 19 plant species were observed. Alligatorweed was the most frequently detected species in 2005, and the native plant American lotus was the most frequently detected species in both the 2006 and 2007 surveys. However, alligatorweed was the most frequently detected exotic invasive plant species in both 2006 and 2007. Due to lack of rainfall, water levels have decreased in 2006 and 2007, limiting access to shallow water areas and thus reducing the number of data points. Scientists may explore the use of remote sensing to examine areas that are currently inaccessible by boat and validate estimates of certain species such as alligatorweed. This project is continuing to monitor the aquatic plant distribution in the reservoir and assess any changes or spread of nuisance species populations, with particular focus on hydrilla, which was first detected in 2005. Management efforts by the PRVWSD are continuing to control nuisance species and promote the growth of more desirable native species.