Welcome
The Mississippi Water Resources Research Institute provides a statewide center of expertise in water and associated land-use and serves as a repository of knowledge for use in education, research, planning, and community service.
---
The WRRI goals are to serve public and private interests in the conservation, development, and use of water resources; to provide training opportunities in higher education whereby skilled professionals become available to serve government and private sector alike; to assist planning and regulatory bodies at the local, state, regional, and federal levels; to communicate research findings to potential users in a form that encourages quick comprehension and direct application to water related problems; to assist state agencies in the development and maintenance of a state water management plan; and to facilitate and stimulate planning and management that:
deals with water policy issues

supports state water agencies' mission with research on problems encountered and expected

provides water planning and management organizations with tools to increase efficiency and effectiveness of water planning and management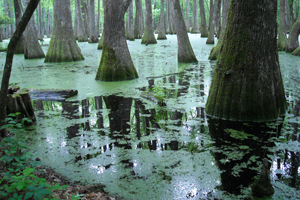 Water Quality and Floristic Habitat Assessments in the Coldwater and Sunflower River Basins: Comparin Traditional Measures of Water and Habitat Quality to Index of Biotic Integrity Findings
The Coldwater and Sunflower Rivers in Northwest Mississippi are listed on the EPA Section § 303(d) list of Impaired Waterbodies for Mississippi. Different river segments and tributaries in the basin are listed as impaired by biological impairment, nutrients, low dissolved oxygen, organic enrichment, pesticides, pathogens, and sediments. Total maximum daily loads have been developed for impaired reaches in the Coldwater and Sunflower River Basins, and water quality improvements are being implemented. Stream quality reference conditions are also being established based on industrial and engineering inspection scores rather than the narrative standards used in the past. This project will refine the development of water quality standards in the Lower Mississippi Alluvial Valley using a combination of additional measures of system status. Scientists will evaluate the incorporation of traditional measures of water quality and stream/river habitat quality measurements, such as floristic quality assessments or riparian areas, with the fish-based data that has already been collected to improve the establishment of appropriate water quality standards. It is expected that this research will enhance management of Lower Mississippi Alluvial Valley surface waters for human use, wildlife value, and water quality, as well as facilitate the administrative determination of water quality standards. Yazoo Mississippi Delta Joint Water Management District personnel are assisting with water quality sampling. This sampling includes the collection of dissolved oxygen and temperature data from streams in the Mississippi Delta Region. Vegetation monitoring has been completed and the data is being analyzed. Analysis of all collections will be incorporated in a final report that can be useful for water district managers in planning and implementing programs to preserve and enhance water quality.
If you are interested in joining our ListServ, please send your name and email address to Keri Lewis at keri.lewis@msstate.edu.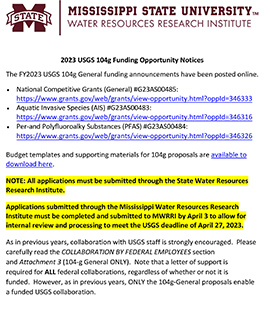 2023 USGS 104g Funding Opportunity Notices
Download
Tweets by MWRRI
Tweets by MS_WRRI