Welcome
The Mississippi Water Resources Research Institute provides a statewide center of expertise in water and associated land-use and serves as a repository of knowledge for use in education, research, planning, and community service.
---
The WRRI goals are to serve public and private interests in the conservation, development, and use of water resources; to provide training opportunities in higher education whereby skilled professionals become available to serve government and private sector alike; to assist planning and regulatory bodies at the local, state, regional, and federal levels; to communicate research findings to potential users in a form that encourages quick comprehension and direct application to water related problems; to assist state agencies in the development and maintenance of a state water management plan; and to facilitate and stimulate planning and management that:
deals with water policy issues

supports state water agencies' mission with research on problems encountered and expected

provides water planning and management organizations with tools to increase efficiency and effectiveness of water planning and management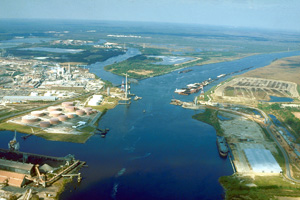 Spatial Technology and High-Performance Computing for Improved Prediction of Surface Water Quality
This multidisciplinary project is funded through the National Oceanic and Atmospheric Administration's Northern Gulf Institute and focuses on using spatial technologies and high performance computing to improve water quality predictions of surface water runoff models. The project study area is the Tennessee-Tombigbee-Mobile River Basin. Institute personnel have assisted with stakeholder interaction and outreach in these areas and provided geospatial data support for the modeling effort. The Institute has worked with MSU's Department of Civil and Environmental Engineering to provide project updates to interested local and regional stakeholders. We have also obtained feedback from decision makers in the study area on how model results can be made more useful to them in making management decisions.
If you are interested in joining our ListServ, please send your name and email address to Keri Lewis at keri.lewis@msstate.edu.