---
Can volunteer flooding of cropland after harvest reduce contaminant export in the Mississippi Delta?
Proceedings of the 2020 Mississippi Water Resources Conference
Year: 2020 Authors: Moore M.T., Taylor J.M., Rigby J.R.
---
The Mississippi Delta is well known for its fertile landscape, helping to feed a growing nation and world. In addition, the Mississippi Flyway is a vital bird migration path for waterfowl enthusiasts. These two worlds often intersect about three months after harvest, as many farmers will voluntarily flood post-harvest fields for waterfowl habitat and hunting. Recent efforts have suggested that an earlier voluntary flood, within one month of harvest, provides critical stopover habitat for wading birds with an earlier migration pattern than ducks and geese. To that end, a collaborative research project was established on a farm in Sunflower County, Mississippi, in conjunction with Delta Windbirds. Six identical, adjacent fields (30 acres each) were chosen for this project. Three fields were flooded for migratory bird habitat in mid-September 2019, while the remaining three fields were left fallow and unflooded, post-harvest. Grab samples for water quality were collected weekly/biweekly on ten occasions in the flooded fields, while automated samplers collected any storm runoff from unflooded fields during the nearly five month project. A comparison of water quality parameters (nutrients and solids) in flooded fields suggests the mitigative capacity of the flooding practice, preventing excessive nutrients from entering receiving water bodies and further exacerbating downstream water quality impairments. Limited runoff data from unflooded fields corroborates this suggestion. While water quality is only part of this research assessment, taken in context with other study components, the practice of early volunteer flooding post-harvest can provide critical wetland functions from which farmers and conservation managers can utilize to improve water resources in the Mississippi Delta.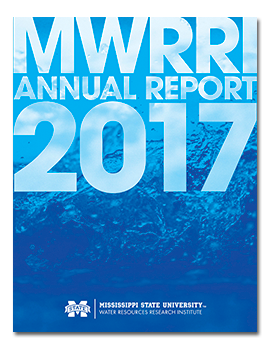 Tweets by MS_WRRI